Meet a Mentor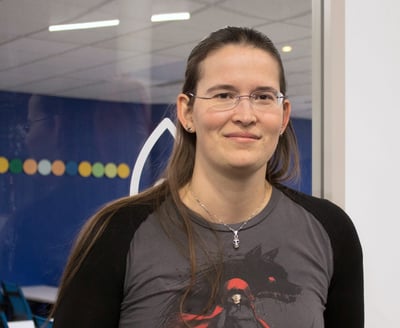 We couldn't carry out our mission to educate and employ eager, driven tech talent without the help of our amazing mentors. Helena has been a CoderGirl mentor for two years, where she imparts her wisdom and pro tips from years of experience as a professional developer.
How did you come to LaunchCode?
While studying Pre-Med, I took a computer science class and never looked back. I ended up getting a job in tech support at WashU and when I graduated I got an internal transfer to their developer team and worked there for a couple of years then moved on to Asynchrony, where I've been for five-and-a-half years. I heard about LaunchCode through Amos King, organizer of the local STLRuby Meetup, who sent me information for LaunchCode's Director of Education Operations, Zach, after he spoke at STLRuby about job and mentorship opportunities. Now, I've been a CoderGirl mentor with the web development group for the past 2 years. Growing up my dad got me into science and technology and my mom got me interested in art and music so I have interests on both sides of the brain! I make jewelry, play Taiko, knit like a mad woman, play video games, and teach coding.
I try to lead learners to find the answers rather than telling them what they are.
What do you do as a Mentor with LaunchCode?
I help CoderGirls with HTML, CSS, and JavaScript problems. A lot of what I do is help by asking people to explain their problems to me in two or three different ways until they figure it out or showing people how to use developer tools. I try to lead learners to find the answers rather than telling them what they are. Debugging is the most useful skill I use in mentoring. Often that means debugging lesson plans to see what part they didn't understand, or leading students through the steps I would take to debug a problem in their code. Most of the time it's not that they don't know what to do, they just don't know why what they thought would work isn't working yet. I help CoderGirls ask the right questions.
What non-technical skills do you find useful in mentoring?
I think my ability to help people figure out what they want to learn is helpful. Web development is one of those groups that's very recognizable and many people think they want to do that, but in listening to a lot of people I'll be thinking "You seem to want to do something else. What you're talking about or interested in is really software development, you'll want to do it in Java."
Can you describe your best experiences with our CoderGirls?
My best experiences have been seeing CoderGirls have their "aha moments" and people getting a website online for the first time. It's something that is a really huge confidence boost, even if it's a small website, it's something they built that's online that they can show their friends and family. Helping people and seeing them learn and improve has been my favorite thing about mentoring CoderGirls.
I've seen the program mature from hack nights and meetups to a structured program. It's great to see!
How has your experience with CoderGirl been overall?
It's been good! It's continuously growing — I've seen the program mature from hack nights and meetups to a structured program. It's great to see! Crystal (LaunchCode's CoderGirl Program Director) is awesome!
What would be your advice to someone interested in signing up to volunteer, mentor or teach with LaunchCode?
Working with beginners in the field makes you a better programmer and team leader. It helps you learn to deal with people with varying experience levels and backgrounds, and those benefits go right back to your team at work.
Any advice for someone considering signing up to take a course with LaunchCode?
If you even think you're interested, you should try it out. The world is totally changing into one where at least having an understanding in technology really makes a difference. Learning tech has helped me learned to be a more patient person.
CoderGirl is a LaunchCode Education program that is designed to engage and educate women in the technology community in St. Louis. CoderGirl provides a space for women of all skill levels to learn to code in a supportive community of like-minded individuals. If you're interested in checking out the program (who wouldn't be?), get more details at launchcode.org/codergirl.
Interview By Crystal Martin,
CoderGirl Program Director