Everything You Need to Know Before the Big Interview
It is no secret that interviewing can be intimidating. Now, add in preparing for an interview virtually and you're wondering how you can still nail your interview, but you do not know where to start. Luckily, LaunchCode understands the difficulty and wants to help! Whether it is a phone or video interview, here are a few tricks and tips to make you stand out during your next interview.
How to Nail Your Phone Interview
Phone interview preparation. First, make sure all of your technology is working before you think about anything else. This also applies to any future video interviews by checking if your Skype/video meeting software is good to go by testing it in advance.
Think about possible technical difficulties with the phone and how you can mitigate them. Technological difficulties happen all the time. Check your wifi connection or make sure you have an extra device to use! If your computer connection drops, call into the conference line immediately.
Before your interview, get to know about the company. You should know their values, what they're working on, etc.
Be sure to have the job description. Highlight sections of core experience skills from your resume while also having written examples of where you have performed duties asked for in the job description.
Be sure to find a quiet place. It is important to find a place with little to no background noise.
Dial in or answer at the exact time. Stay on the line for 10 minutes to allow the manager time to join. If the manager does not join the call in 10 minutes, call your recruiter immediately!
Have in front of you the manager name, title, job description, your resume, and notepad. Be sure to have all the information on hand.
Ask Questions! You must be prepared for your interview by having questions written down in front of you. Also, have your accomplishments ready to be discussed with the hiring manager.
Typical Questions You Will be Asked
Tell me about yourself. This should be answered only about your professional background and how it fits the job you are interviewing for.
Why do you want this job? Talk about how the client's corporate mission fits with your career goals.
What are your strengths? Based on the job description, use your skill sets as a strength for each bullet point they are asking for.
What are your weaknesses? This is a good time to be honest but also show the employer how your weakness is recognized and you are finding ways to overcome that obstacle. Additionally, consider how you could turn a weakness into a strength.
Why did you leave your last job? Now, this is not the time to bash on any company. Never do that! Navigate this tricky question but remain professional and honest on how you are looking for a position that benefits your career development.
Where do you want to be (in the future)? How will your career development fit with this position's values and your future goals? Be honest.
Good Questions to Ask the Manager
Can you tell me more about the history and scope of the job that may not be written in the job description?
Can you tell me what results you'd expect from the person in this job the first 30-60-90 days?
What skills, experiences and work attributes are you hoping to find in the ideal candidate?
What impact does it have on your group if this position goes unfilled?
What can you tell me about the other team members and their roles and functions?
How to Ace Your Video Interview
Introduce yourself in 60 seconds or less. Want to see a bunch of examples?

Click here to view

recently submitted video resumes.
Talk about your internship or relevant work experience. Why are these things applicable in the field you are trying to jumpstart your career in? Think of topics that you can turn into a humble brag. Talk about why you chose a career in tech and why you love it!
Make sure you talk about your career goals. Your previous experience is valuable, but we also want to know where you see yourself in the future.
Be ready for a behavioral question.

This podcast

helps you write a behavioral question. Although it does not help you prepare for behavioral questions, I suggest listening to it to understand what types of questions you might be asked, and how they will be asked.
Be Prepared, Don't wing it. This is your opportunity to shine, don't let the preparation be the reason why you didn't get the job!
Move objects that appear in the frame and could pose a distraction. It's best to sit in front of a solid wall (white, if possible).
Use a well-lit room to record your video and find natural light if possible. Position yourself behind lights so that your face is clearly visible and not backlit or dark from shadows. Think of a photo shoot and how the photographers position the lights in front of you! Have a ring light? Use that!
Ensure you have a quiet environment to record your video in. Have your roommate take the dog out, turn off all TVs, tell your neighbors to be quiet for a few minutes, and rid the place of any distracting sounds. Test your internet connection to see if there is any trouble loading the content you want to share.
Be aware of your body language. Keep your hands away from your face to avoid messing with your hair, scratching your nose, or overuse of hand gestures. Do not chew gum, fidget, or move around a lot while recording. Get rid of distractions.
Dress Nicely. We recommend dressing either business professional or business casual. This means high-cut tops, a solid or subtle patterned top, no flashy jewelry, and subtle makeup (if applicable). It's best to wear soft or deeper toned tops. Dress as if you were going to an in-person job fair or interview.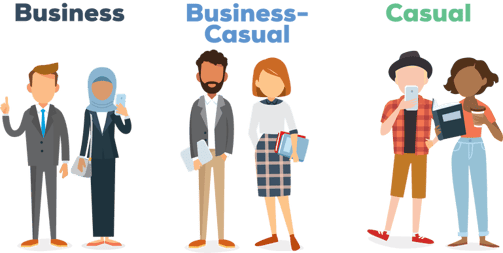 Keep yourself updated by subscribing to our newsletter for more helpful tips and tricks from our LaunchCode team!