Pulling Back the Curtain on the UX Process
We're living in the Technology Revolution, and as we experience the change in the job market, every other industry is trying to find their place. As demand for tech jobs increases, there is an increase in the need for related jobs in design and User Experience (UX). I am the User Experience designer at LaunchCode and the lead for all digital experience and embedded systems. In simpler terms, I'm responsible for your experience while using our apps and websites.
What Is UX, Anyway?
User Experience is the term used for everything encompassing your interaction with an organization's products or services. The product can be internal for employee use, or it can be an external for the customer. It includes every step of the customer experience, from the first time you come in contact with a company right down to when you make your final purchase (or don't). It could also be more nebulous, such as your experience at work, stretching from the time you get dressed for work to the time you arrive back home. User Experience encompasses all of these areas. I also want to make it very clear that one designer does not design the entire process. In the UX world, there are UX designers, UI designers, UX researchers, Visual Designers, Interactive Designers, UI Developers, and many more. When the UX team works well together, they can make it easy for everyone to have good experiences while interacting with a brand.
Designers use a process requiring putting meaningful thought behind the placement of each element and in the selection of every color.
The UX Design Process
Design is a process. We don't just think about something and jump on a computer to push a few buttons and magically bring something to life. That's how Frankenstein was made. Rather, designers use a process requiring putting meaningful thought behind the placement of each element and in the selection of every color. We use design research to help us maintain industry standards and test our concepts to evaluate if the design is a strong, viable solution to the need.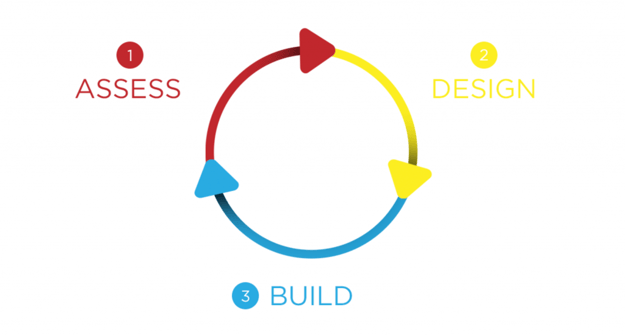 A lot of this process can be found in the UX process here at LaunchCode. Here we use the Iterative Design Process based on user-centered methodologies to make meaningful UX decisions. The Iterative Design Process has three phases: Assessment, Design, and Build. During the Assessment Phase, we are analyzing user behavior and what their needs are, and then use that information to generate plans for products that can address those needs. In the Design Phase, we take what we have learned and develop many ideas to solve the need. In the Build Phase, we create prototypes of our ideas to solve the need we identified earlier. From there we utilize assessment methods like user testing to see if our prototypes are leading toward an improved or degraded experience, then taking what we've learned and repeating the process. We may make hundreds of iterations until we've solved the need or problem and we have a successful product to release to the public.
Becoming A UX Professional
I'm formally trained in Graphic Design. In short, I'm a Visual Communication Scientist. However, UX, like programming, doesn't require a four-year degree. In fact, UX is still an innovative field that can be conquered by those with less formal education but a thorough understanding of key design concepts. Less education is required particularly for low fidelity prototypes or mockups. When it comes to high fidelity mocks and final design, someone with more visual training in the art and science of interactive design will achieve the best results. This doesn't always mean four years of education, but it requires volumes of finished, fleshed out designs that meet or exceed industry standards while creating beautiful experiences for users.
Design itself is a problem-solving mechanism that we use to create enjoyable and impactful experiences.
You Can Do This!
This is something you can do, but it will take time and training to become an expert. Design itself is a problem-solving mechanism that we use to create enjoyable and impactful experiences. As a professional it's something I find both challenging and enjoyable. From getting more candidates to sign up to find their dream job with our application to making sure the next thing you need is at your fingertips at just the right moment, UX is a rewarding career.
May the force be with you.
By Tim Hykes
UX Designer at LaunchCode
Tim is the in-house User Experience Designer at LaunchCode, helping people land their dream careers in tech through great design. He is also the VP of the St. Louis chapter of AIGA and co-founder of the STL Design + Diversity conference, focusing on diversity issues in the design community.
///Still contemplating that dream job in tech? Apply to our apprenticeship program to get matched with one of our hundreds of company partners or check out our courses today!