Finding the Right Time for Takeoff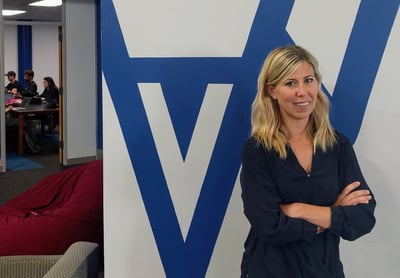 Katy first heard about LaunchCode from an announcement for the first CS50x course at the Central Library in St. Louis. The timing wasn't right for her to become a LaunchCoder then, but she signed up to stay updated about future classes. When she received an email about the Winter 2017 LC101 session, she knew the time was right for her, and soon enough, she became a bona fide LaunchCoder.
Tell us about your background.
I have a BA in Visual Communications from Mizzou with some coursework completed toward an MBA in Marketing from Lindenwood University. My background is primarily in Marketing, Operations, and Project management. As an operations manager, I relied heavily on dashboard and data visualization tools to effectively and efficiently manage workflow.
Over the past seven years, as our family – including my wonderful and supportive husband Joe, son Jacob (6), and daughter Sam (5) – starting growing, I've been focused on volunteering, fundraising, and serving on the board of directors for a non-profit organization in South St. Louis.
What motivated you to sign up for LC101.
Learning to code has always been on my to-do list. In Fall 2016, I began taking Harvard's CS50x online class. Soon after that, the new LC101 session applications opened, and I just knew it was time to go for it. Being a life-long learner is important to me.
Being a life-long learner is important to me.
How did the reality of class differ from what you expected?
Honestly, I'm surprised at how quickly the time has flown by! LC101, while challenging and fast-paced, is designed to support even beginner coders. I was thrilled to find out on day one that we'd be split up into small groups for most class sessions and assigned to one teaching fellow, which made it easy to ask questions and interact with others.
Additionally, the online tutorials are easy to follow, and the material is delivered with such a friendly cadence that even the most basic coder can follow along. Our instructor, Doug Shook, does a great job presenting to the class in a way that makes it seem possible for anyone to tackle the material. I'm always surprised at the level of professionalism in the materials.
I'm always surprised at the level of professionalism in the materials.
What's a highlight from class?
Learning how to use the command line led to one of my first "a-ha" moments in class. The fact that we can easily instruct computers to carry out instructions using basic text instructions is so simple and pure, but so essential to learn before moving on to more higher-level tasks.
Building a web-based application that stores and retrieves data from a database was one of my favorite projects because it allowed us to practice both front-end and back-end programming.
What have you learned about yourself in this course?
My approach to problem solving is different now. I've learned to enjoy the struggle because finding the solution feels so good. Click to tweet.
The level of tenacity that coding requires is pretty high, and sometimes you have to search for that rogue semi-colon for an hour before you find it – and that's ok.
I've also learned how to become pretty capable at Googling for answers.
What advice would you give to someone interested in signing up for LaunchCode's next class cohort?
Keep up with the material! Don't skip any of the prep work, readings, or practice exercises. Try your best to attend each class session, and don't be afraid to raise your hand and participate in lectures!
When you are a part of LaunchCode, you become part of a family, an organization that backs you from start to finish. You feel it from the first day of class, and it's part of what keeps pushing you forward to keep going. Remain committed to this program for the duration, and you'll be amazed at the result.
///Want to join the LaunchCode family to land your dream job in tech? If you've already got the skills, skip ahead to apply for our apprenticeship program and polish up that resume to land your next tech job. (Seriously, you can do it right now, what are you waiting for?!)