As Kansas City blossoms into a national hub for tech and entrepreneurial development, the region's employers face a widening gap between tech talent supply and demand. In 2018 alone, Kansas City faced a deficit of 5,500 more tech positions created than tech talent produced. While large corporations have the opportunity and resources to overcome this shortage through recruiting non-local talent, entrepreneurs and local start-ups often rely on talent from their community. Through no-charge tech training, LaunchCode is providing the skilled tech talent Kansas City's entrepreneurial ecosystem needs to overcome its current growing pains.
Like LaunchCode, the Ewing Marion Kauffman Foundation believes that education and entrepreneurship are essential to empowering individuals and communities while growing the economy. "The Kauffman Foundation works together with communities in education and entrepreneurship to empower people to shape their futures and be successful," says Erin Jenkins, Program Officer at the Kauffman Foundation. "By building an inclusive pathway to technology roles in local startups, LaunchCode is opening opportunities for Kansas City residents to thrive."
Philanthropic support from the Kauffman Foundation enables LaunchCode to create a network of opportunity for diverse and non-traditional talent through education and job placement while supplying Kansas City companies with the talent needed to flourish locally and nationally.
Starting-Up Change
To grow and remain competitive, start-ups—at every level of growth—must be able to keep up with the ever-adapting tech industry. And even with national reach or aspirations, start-ups will always play a crucial role in the development of their community. LaunchCode works to ensure that as local companies grow they have a community of ready talent without relying on outsourcing or transplanting non-local talent.
Partnering with Ad Astra
For over 20 years, Ad Astra has been helping colleges and universities in Kansas City and across the nation manage limited space and resources to accelerate student success. In 2017, LaunchCode and Ad Astra partnered to continue providing non-traditional talent the opportunity for a career in tech.
"In a tight job market where we're trying to grow our R&D investment, LaunchCode has been a godsend—a steady supply of reliably competent and hungry candidates,"

Geoff Vandegrift, Director of Software Engineering at Ad Astra.
Three LaunchCoders have been hired at Ad Astra over the past 18 months. According to Vandegrift, "determining work ethic can be one of the most difficult tasks [in hiring]. I never have to worry about that with LaunchCode candidates. Simply making it through LC101 proves your grittiness to me."
Through a no-charge, part-time computer training course hosted at Rockhurst University called LC101, LaunchCode is paving new pathways into the tech industry and ensuring high-functioning tech teams fueled by diversity of thought and experience. For companies like Ad Astra, this means that "rather than candidates turned out by the traditional computer science programs who all basically think the same" they instead develop teams "with people that have degrees in music and experience in teaching (among other things)." As more and more community members of all backgrounds and experiences dive into KC's entrepreneurial ecosystem, companies like Ad Astra are better equipped to pursue their mission and meet new and diverse challenges head-on.
Working with PayIt
Founded in 2013 to simplify doing business with local, state, and federal governments through its digital citizen payment and engagement platform, PayIt is making a name for itself, not only in Kansas City but across the U.S. with their recent $125 million investment round—the largest round raised by a start-up in Missouri. Access to a pipeline of local tech talent has been a vital element of PayIt's growth. Since 2016, LaunchCode has been partnering with PayIt to provide trained and vetted talent from Kansas City.
The eight LaunchCoders currently at PayIt "assist in a multitude of areas from solving data challenges and developing client-specific logic to investigating industry/client barriers and breaking them down through innovative, modern solutions," says PayIt's Director of People Operations, Phillip Swope. "These individuals are directly impacting the vision of PayIt's digital government platform on a daily basis."
By connecting individuals with education and career placement and connecting employers with skilled workers, LaunchCode is developing a network of opportunities across the community. For start-ups like PayIt, this "pipeline of strong candidates is important for the successful growth of the company."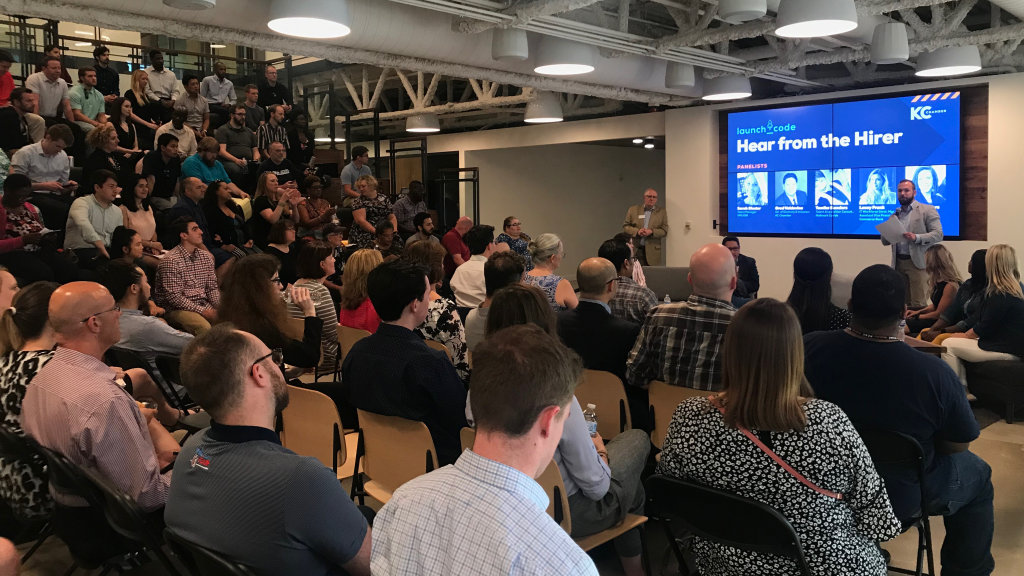 Changed Lives Change Companies
This network of opportunity, for the community, company, and individual, begins with the people LaunchCode serves every day.
Scott Conner earned a bachelor's and master's degree in music performance before he decided to pursue a career in tech. LaunchCode's no-charge LC101 course helped him "hone [his] skills and land an apprenticeship at PayIt" which led to him permanently joining the PayIt team and mission.
Scott, like all LaunchCode graduates, is passionate and driven to succeed. But thriving in tech isn't a solo effort, Scott says. "LaunchCode encourages individuals who are hungry for knowledge and professional success to hit the ground running at companies like PayIt. PayIt directly benefits from bringing on these students who are able to learn new systems and adapt to new information."
Across the city from Scott is another LaunchCoder, Lindsey Brown. Lindsey was a high school math teacher looking for an entryway into tech, but without traditional tech training her opportunities were limited. After finding LaunchCode, Lindsey worked with staff and mentors to "dig into the 'why' of [her] transition, be more prepared to communicate skills," and to demonstrate how her unique background could be an asset on a development team. This process led Lindsey to an apprenticeship at Ad Astra, and since she got through the door she hasn't looked back.
LaunchCode doesn't see every tech career as a nail to be hammered. Rather, we see people like Lindsey, each with a unique 'why.' The "advice and input during the interview process was so valuable" for Lindsey, and LaunchCode's investment in her job search ensured that Ad Astra fit her motivation and drive, both for her success and the success of Ad Astra's ongoing mission.
Today Lindsey has moved into the role of Associate Software Engineer at Ad Astra. The "positive culture that embraces individuals from different skill and experience backgrounds" has been the perfect fit for Lindsey as she continues to learn new skills and technologies while being a meaningful part of the local entrepreneurial ecosystem.
Bui

lding a Network of Opportunity

The drive of people like Scott and Lindsey, the innovation of companies like Ad Astra and PayIt, along with the vision of LaunchCode and the Kauffman Foundation weave together, forming an intricate network of opportunities. Lives are being transformed and companies in the community are stimulating the local economy by utilizing local talent.

While LaunchCode is providing the much-needed tech talent, we are also changing the lives of those who are faced with unequal opportunities despite equal skill.

Through the shared vision of LaunchCode and the Kauffman Foundation, the entrepreneurial ecosystem of Kansas City is continuing to flourish, empowering residents and start-ups to pursue their own goals and dreams for a brighter, more equitable future.