Key Takeaways from

Leading Companies' Hirers.
In Philadelphia and across the country, there is an immense tech talent shortage. In the midst of the pandemic, tech jobs are going unfilled. Glassdoor reported nearly 6,000 open tech jobs in Philadelphia in late 2020. With the economic impact of the tech industry estimated at $40 billion — we simply can't afford to leave these high-paying jobs unfilled. It's time for employers to revamp the way they recruit, hire and train tech talent. During the pandemic many tech employers have changed their hiring practices by eliminating degree requirements for every position and using skills-based hiring approaches to recruit and evaluate new talent. During Hear from the Hirer: Fueling Tech Growth through Skills-Based Hiring showcased the benefits of revamping their hiring processes and how LaunchCode fits in.
Our panelists, Ashley Kotter at 03 World, Ashley Pastino at Penn Interactive, John A. Chicoli at Boeing, and Isaiah Nathaniel at Delaware Valley Community Health Inc., shared their interview tips for first-time technologists and how their companies are conducting tech talent recruitment.
LaunchCode is on a mission to build a skilled workforce by creating pathways for driven people seeking careers in technology.

"Someone tonight asked a profound question that centered around the insecurity and the anxiety that comes with changing careers. When you're up against candidates with a 4-year CS degrees and resumes laden with companies that add to their pedigrees - and you wonder with all of your potential, 'Can I do this?' I hope tonight's conversation was proof in the pudding for you that you can."

—

Ashley Kotter
Our Panelists Give Their Advice
At our event, the audience was filled with LaunchCoders eager to get their foot in the door. Our panel shared crucial advice on how to enter the workforce and the best ways to climb the work ladder. Ashley Pastino emphasized not being afraid to ask the hard questions and to make sure you are also interviewing the employers as much as they are interviewing you to ensure a good fit. Isaiah Nathaniel stated the need to be bold enough to say exactly what you want and to be yourself, always. At his company, he was transparent with his company's practice of hiring based on the skills rather than traditional credentials. To supplement this sentiment, John Chicoli expresses candidates should be sure they are passionate about the position they are applying to. Chicoli said, "You need to make sure it is a job you are eager for and [and that you will be] willing to learn something new every single day. Be passionate about learning." For Ashley Kotter, looking for a job is more than applying. Kotter stated, "When you're looking for a job and you're really interested, take your top skillset and be sure to lead with it and add anything supplementary. Do that with every single job you apply to." She also told our audience about being upfront to the employer with their needs in order to truly see if they fit at the job.
The skills LaunchCode teaches are exactly what hirers like John Chicoli are seeking. "Our biggest payoff [when hiring non-traditional candidates] is the diversity of thought. It is easy to hire someone like myself but what I'm looking for now is something different," Chicoli said. "I need someone who can take their non-traditional experience and shape our company." Our panel unanimously agreed with LaunchCode's philosophy that if you can do the job, you should get the job. LaunchCode's programming not only removes barriers and opens doors to aspiring technologists from all walks of life but also supports the vision of valuing passion, drive and aptitude over credentials.
"We are looking for candidates with a skills-based background. We see candidates with non-traditional backgrounds as people who are hardworking. It's something we notice when partnering with organizations like LaunchCode."

—

Ashley Pastino on hiring candidates without a 4-year CS degree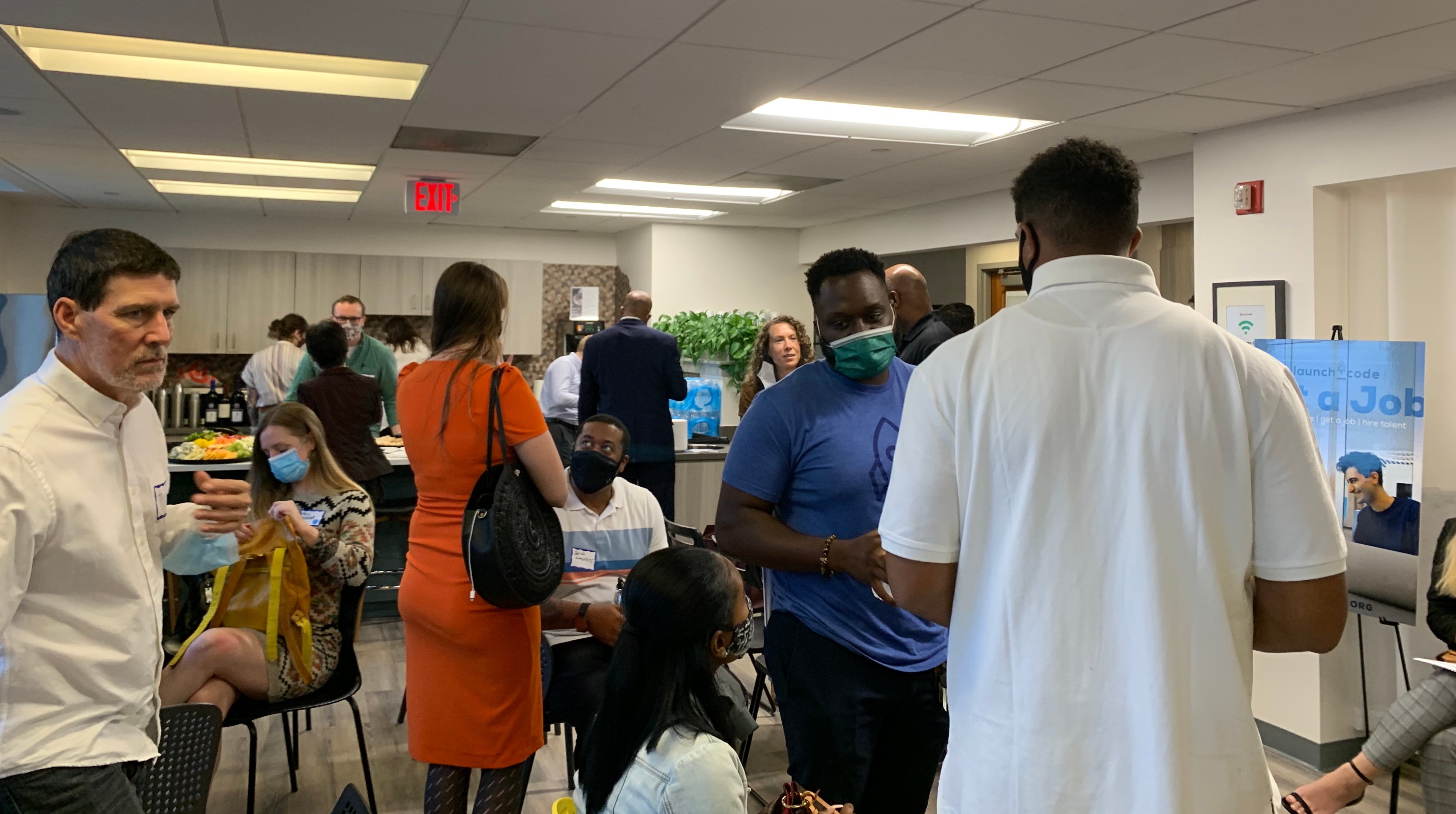 Philadelphia's ongoing effort to establish the region as a diverse tech hub is perfectly aligned with LaunchCode's mission to open doors to tech careers for all, while at the same time providing companies with a diverse, homegrown talent pipeline. Our Hear from the Hirer event spoke to the mission of ensuring the tech talent pool is filled with new technologists from all walks of life. We are excited to continue our work in Philadelphia and working with employer partners who are looking for new talent to grow their team's talent pipeline.
Email Keighan Gunther to talk about getting involved in LaunchCode's work.