An international leader of aerospace innovation for over a century, Boeing has been breaking barriers in the sky, and now they're paving pathways to tech careers for people with non-traditional credentials. Employing over 150,000 people globally, Boeing is committed to crafting teams with diverse skills, strengths, and perspectives. Through corporate practice and community partnerships, Boeing prides itself on taking an active role in cultivating both diversity and opportunity.
Boeing and LaunchCode share a common vision. Partnering together they break down systemic barriers to education while providing companies with highly skilled and capable employees. LaunchCode's programs help those who have not had the advantage of traditional pathways to education and success in tech. By supporting these programs, Boeing fills its growing talent niche by adding diverse and driven LaunchCoders to their teams. This expands the horizon for motivated individuals while also meeting Boeing's need for diverse and skilled coders.
LaunchCode graduates are well-prepared for full-time positions in the workforce. Since 2013 almost 900 apprentices have met the challenge and been hired full-time at local companies such as Boeing.
LaunchCode's Senior Managing Director of Company Relations, Brian Feldman, has worked closely with Boeing to fill open positions with LaunchCode apprentices. Addressing the impact of Boeing's partnership he says,
"We're happy Boeing is building a pipeline for nontraditional tech talent in the greater St. Louis region. Our partnership is not only leading to more diverse tech departments but also providing upwardly-mobile careers to folks who have faced barriers to jobs in the tech workforce prior to LaunchCode."
Boeing's partnership with LaunchCode shows a commitment to the community, while also recognizing how a diverse workplace is essential to meeting the evolving needs of the tech industry. Creating opportunities for individuals without traditional education is more than an organizational exercise. It is personal, affecting real people and real lives.
The Opportunity for Challenge and Growth
Kelly Sorbello, like millions across the country, found herself stuck in a cycle of demanding jobs with little challenge or opportunity for growth. Before coming to LaunchCode, Kelly spent most of her working career in the service industry, with brief stints clerking and working in a call center.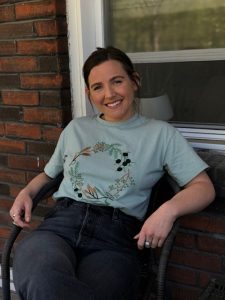 As Kelly tells it, "I was determined to continue my education but had really no idea what direction to go in. I just knew I wanted something challenging with opportunity for growth as well as high demand for employment." Kelly had the mindset for bigger things, but she lacked the skillset to change her situation.
coding was."When her brother, a computer programmer, first told her about LaunchCode, she gave it little thought. "He told me about websites like freeCodeCamp and Codecademy, where I could go online and get a taste of what programming is, but I still had hardly any idea what
Kelly committed to exploring what the tech world could hold for her. She began a course in JavaScript and enrolled in LaunchCode's LC101 coding program. From there, her work was only just beginning. "At first, it was very challenging keeping up with the pre-work while working full-time," Kelly says. "I kept going because I loved the challenge."
After completing LC101, Kelly began LaunchCode's LiftOff employment prep course. "I was so excited and ready to make a career change," a dream quickly realized when Kelly was placed in an apprenticeship at Boeing in October of 2018.But Kelly wasn't alone. "I was so lucky to have such a helpful teaching assistant, Ryan Walker, as well as a cohort of fellow LaunchCoders working beside me." With the support of instructors and classmates, Kelly finished 20 weeks of intensive coding education.
"It was honestly surreal to me, I couldn't believe how quickly I was placed into an apprenticeship and that I was working somewhere like Boeing."
And with her new skills, Kelly has found the challenge and growth she was seeking. In February, Boeing hired Kelly full-time as a programmer/analyst!
"I am on a large team that works to support around 600 business applications doing technical insertions, break fixes, and production down." Kelly has not only found a career that challenges her but also opens doors for growth and advancement. Through her time at LaunchCode she is equipped to meet the challenges of tech head on.
What Partnership Makes Possible
Kelly's perspective illustrates the value of LaunchCode's programming firsthand. "I have several [LaunchCoders] on my team and there are others that work on different teams throughout Boeing IT that are giving LaunchCode a good reputation throughout the company."
Since 2013, LaunchCode has launched over 1,800 careers, with four out of five of our apprentices converting to full-time roles, not only at Boeing but at more than 500 companies nationwide. With almost 30 full-time hirings to date (and more candidates in the pipeline), Boeing's partnership with LaunchCode is actively serving the community.
LaunchCode alumni are not only equipped with the skills necessary to be successful in the tech industry but have also demonstrated the intangible skills of determination and drive in the face of adversity. Such characteristics are invaluable and are part of the reason Boeing Global Engagement has committed to partnering with LaunchCode, donating over half a million dollars over the last four years to support further education and outreach. Jeff Sweet of Boeing Global Engagement explains this as part of,
"Boeing Global Engagement's commitment to supporting cradle-to-career pathways that strengthen and diversify the pipeline of skilled workers entering today's dynamic labor market. We're thrilled to support LaunchCode's programs as they provide resources for individuals of all backgrounds and experiences as they pursue careers in technology."
Through this partnership, those with the mindset of success are given an opportunity to change their lives and make a difference in the world of tech.
Partnering with LaunchCode betters the industry, but it also betters lives like Kelly's. "LaunchCode has really changed my life in a way that just a couple of years ago I didn't think was possible. It has also helped me find confidence in myself that I didn't know I was capable of." Today Kelly continues to pay it forward as a LaunchCode teaching assistant helping students who are seeking their own opportunity for a more fulfilling career.